Thousands of Italy's anti-Salvini "sardines" protest in Rome
Comments
By Euronews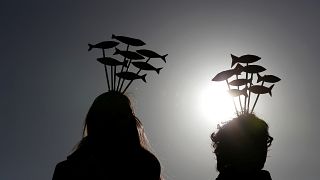 -
They have no party symbols, mottos or flags. They are mainly young people, and in only a month they have filled Italy's major squares to protest against far-right leader Matteo Salvini.
They call themselves "sardines", like the fish that move in packs and need to stay together to fight a bigger enemy. Their non-violent protests are carried out in silence, the same way fish are known to emit no sound.
The Sardines has become a national movement: on Saturday, thousands of people gathered in Rome to protest and presented their manifesto.
According to Massimo Panarari, an expert in social communication, the Sardines are reacting to the current Italian political crisis, and have no intention to replace any party. On the contrary, they are prompting people to stand by Italian politicians.
The movement began in Bologna in mid-November. At that time, the League had organised a rally in the city to campaign for the Emilia-Romagna regional election.
The night before the political meeting, Matteo Santori, a 32-year-old political science graduate, sent a text to three friends asking them to meet and protest against Salvini.
Santori also created a Facebook event. "Bring your sardine and join the greatest 'fishlike' revolution in history," said the social media invitation.
Their goal was to exceed the 5,570 people attending the League's rally. However, 6,000 Sardines showed up in Piazza Maggiore, Bologna's central square.
The success of the grassroots movement spread across Italy and new groups of supporters were swiftly born in Modena, Florence, Taranto, Turin and Milan.
"This is a movement that transforms over time," explained Panarari. However, the expert stressed that, currently, the Sardines are defined by their will to oppose Matteo Salvini and his party.