Brussels to delay decision on Brexit extension until after weekend, says EU source
Comments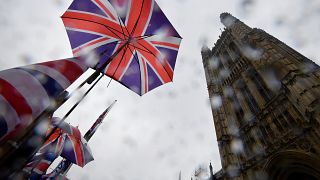 -
Brussels has delayed its decision on a Brexit extension, an EU source told Euronews, adding the agreement will likely be decided upon next Monday or Tuesday.
At their meeting on Friday morning, EU envoys to Brussels agreed on the need for an extension but work will continue over the weekend to finalise the agreement, the source said.
"There was full agreement on the need for an extension and there was full agreement to reach a unanimous, consensual EU27 decision."
The decision will be taken by written procedure and EU Council President Donald Tusk will not convene a special EU Council meeting.
It comes as UK Prime Minister Boris Johnson is set to push for a snap general election on Monday, amid ongoing deadlock over getting his Brexit deal approved by British MPs.
Reuters reported that a draft decision by the 27 EU countries would grant the UK an extension "with the view to allowing for the finalisation of the ratification".
The draft text leaves the new Brexit date blank but says the UK's departure could take place earlier if ratification is completed earlier - an idea known as "flextension".
"Consequently, the withdrawal should take place on the first day of the month following the completion of the ratification procedure, or on (blank), whichever is earliest," it read.
The EU official explained: "It's basically between a three-month flextension or a two-tier one."
Under the first idea, Britain would leave on January 31, 2020, three months after the current Brexit deadline.
The second one would include a second specific date when Britain could leave.
'Bitterly divided'
Johnson on Thursday announced he would challenge UK MPs to a snap general election. They are set to vote on a motion for a December 12 poll on Monday.
French President Emmanuel Macron has previously managed to sway the bloc's extension decisions significantly from the plans prepared in advance of the bloc's meetings and the line Paris would take is another risk factor on Friday.
Read More: Could France go against all odds and veto a long extension for Brexit?
A second EU official said: "We'll see tomorrow. Might also be an argument for waiting one day more to see what happens in London."
A third one added: "If there are elections in the UK, it is clear to everybody that we need to give Britain a long extension."
The draft text also said: "The further extension cannot be allowed to undermine the regular functioning of the (European) Union and its institutions," a clause the bloc hopes would shield its vital interests from the protracted Brexit drama.
More than three years since Britons voted out, the fate of Brexit remains uncertain, ranging from a disorderly split at the end of this month, to another delay and a national election in bitterly divided Britain.