Watch: Brexit deal agreed but Boris Johnson now faces battle back home
Comments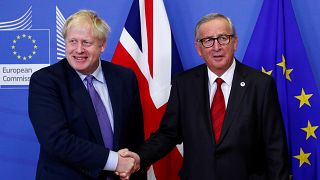 Copyright

REUTERS/Francois Lenoir
London and Brussels have agreed on a Brexit deal... but it still has to get the backing of British MPs and the European Parliament.
Jean-Claude Juncker, the president of the European Commission, said it meant there was no longer a need to extend the divorce deadline beyond October 31.
"I am happy about the deal, but sad about Brexit," Juncker said at a joint press conference with British Prime Minister Boris Johnson.
Johnson said: "I hope very much now, speaking of elected representatives, that my fellow employees in Westminster do now come together to get Brexit done, to get this excellent deal over the line and to deliver Brexit without any more delay."
British MPs will sit on Saturday and vote on whether to back the agreement. If not, legislation requires Johnson — who has pledged to take the country out of the EU by October 31 — to ask the EU for a Brexit extension.
Warm words for Britain
Brussels chiefs, speaking after EU27 leaders unanimously ratified the modified divorce deal, had warms words for the United Kingdom.
"What I feel, personally, is sadness because in my heart I will always be a Remainer," Donald Tusk, president of the European Council said. "I hope if our British friends decide to return one day our door will always be open."
Michel Barnier, the EU's chief Brexit negotiator, echoed this sentiment by saying: "Brexit has been a negative experience and is a lose-lose process."
Barnier said he had not been "aggressive or vengeful" at any stage during the Brexit process and that he has "great respect for the British".
Taoiseach (Irish prime minister) Leo Varadkar, standing alongside Tusk, Barnier and Juncker, said he viewed the UK's departure like "an old friend that's going on a journey". He added he thought there would "always a place at the table if they choose to come back".
How is the new Brexit deal different?
Northern Ireland, like the rest of the UK, will come out of the EU's customs union. But, to avoid a hard border with the Republic of Ireland, there will be no customs checks on the island. The verifications will instead be done at ports.
The north will remain aligned with a limited set of rules related to the single market, again to avoid a hard border with the south.
Northern Ireland has also been granted a "mechanism of 'consent'" that gives politicians the ability to decide whether to continue to follow the EU rules.
Varadkar said there would be a transition period until 2020 — during which nothing would change for British or EU citizens — and was extendable for two years if required.
The political declaration has also been "revised slightly," Tusk said, adding that it "provides for ambitious free trade agreement in the future without tariffs".
Battleground now moves back to the UK
But across the Channel, reactions have been less enthused — in particular from opposition parties and Northern Ireland's Democratic Unionist Party (DUP).
Johnson, who does not have a majority in Westminster, needs cross-party support to ratify the new agreement. His Cabinet has rallied to champion it with arch Brexiteer Jacob Rees-Mogg describing it as "really fantastic and exciting."
But the DUP, which has been propping up the Conservative party since it lost its parliamentary majority in 2017, has said it is "unable to support" the new deal as it "drives a coach and horses through the professed sanctity of the Belfast Agreement."
It added: "These proposals are not, in our view, beneficial to the economic well-being of Northern Ireland and they undermine the integrity of the Union."
Labour Party leader Jeremy Corbyn — Johnson's main opposition — said his party "cannot support this deal" and pointed toward an uncertain level of support from the rest of parliament.
"As it stands, we cannot support this deal ... also it is unclear whether it has the support of his allies in the DUP, or indeed, many allies on his own backbenches," he said.
Also with the rejections were the Scottish National Party (SNP), which said the new deal proposed a "much looser" relationship with the EU.
In a brief statement, party leader Nicola Sturgeon said: "The Brexit envisaged by Boris Johnson is one which sees a much looser relationship with the EU when it comes to issues like food standards, environmental protection and workers' rights.
"Scotland did not vote for Brexit in any form, and SNP MPs will not vote for Brexit in any form."
The anti-Brexit Liberal Democrats have also signalled that they would vote against the deal, with leader Jo Swinson, describing the deal as "bad for the economy, bad for our public services, and bad for our environment."
Meanwhile, Brexit Party leader Nigel Farage said he would rather see a further delay and a general election than see Johnson's deal pass.