UK PM must ask for Brexit extension after MPs vote for approval delay
Comments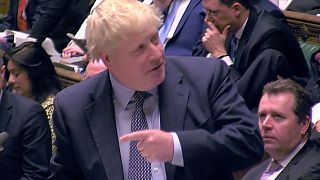 Copyright

REUTERS/Marko Djurica
It was billed as a decisive day for Brexit, but MPs have voted to delay the approval of Boris Johnson's new divorce deal.
Johnson had hoped that the House of Commons would back his agreement with the EU, which was sealed this week.
But an amendment was put forward by Sir Oliver Letwin to the government motion, which will see MPs withhold their approval until the implementing legislation is passed, namely the EU (Withdrawal Agreement) Bill.
It was passed by 322 votes to 306.
It means the UK prime minister — as a result of the Benn Act — will now have to write to Donald Tusk and ask for a Brexit extension until January 31 by 11 pm on Saturday.
Conservative MPs had accused opposition figures of trying to frustrate Brexit, but those speaking of support of Letwin's amendment claim they simply have not had a chance to scrutinise the agreement, which announced this week.
Others said they were backing the amendment because they did not trust Johnson. They feared even if the deal had been passed by MPs on Saturday, the implementing legislation could have been delayed next week by those who want to crash out of the EU without a deal.
What happens next?
Boris Johnson responded by saying he would not negotiate a Brexit delay. Opposition leader Jeremy Corbyn called on him to reconsider.
"I'm not daunted or dismayed by this particular result and I think it probably became likely when the amendment was left on the order paper.
"I continue in the very strong belief that the best thing for the UK and for the whole of Europe is for us to leave with this new deal on October 31.
"I will not negotiate a delay with the EU and neither does the law compel me to do so."
After Johnson had left his seat in the debating chamber, his team then blindsided parliament by announcing plans to schedule a vote on his Brexit deal on Monday - putting Letwin on alert for another possible clash.
If legislation to enact Brexit is passed by October 31, the UK is expected to leave on time, but there are doubts over whether MPs will play ball.
'Unite the country'
Earlier, Johnson had urged MPs to grasp the "historic opportunity" of getting a Brexit deal done and heal divisions in the country.
The UK prime minister was speaking as he opened the historic debate. It was the first time MPs have sat on a Saturday since 1982.
"It is precisely because we are feeling sceptical about EU integration but also passionate and enthusiastic about Europe that the whole experience of the last three-and-a-half years has been so difficult for us," said Johnson.
"That's why it's so important to move on and agree on a new relationship.
"Now is the time for this great House of Commons to come together and bring this country together. That's what people are hoping for at home.
"This house has a historic opportunity... to get Brexit done."
Corbyn called it a "sellout deal" and said there had been no assessment of its economic impact.
Ian Blackford, the Scottish National Party's leader in the House of Commons, said the deal would "shaft" Scotland, while Nigel Dodds, from the Northern Irish Democratic Unionist Party, rejected it saying it must be for the whole UK.
What happens if the deal passes?
If MPs vote for the first government motion — to approve the new Brexit deal — with no amendments, this is actually just a first step towards it becoming law. Parliament will then have to pass legislation to put this into effect, a big ask by October 31.
MEPs will also have to give their consent to the deal in the EU's ratification process.
Both ratification processes could be accelerated, but the UK government could also ask for a "technical" extension of Article 50 for a time period of its choosing while they are completed.
And what if it's rejected?
In the event that the first motion is rejected by MPs, they could be given a vote on a second government motion on whether they favour a no-deal Brexit.
If neither motion is passed, with MPs effectively neither approving the new deal or no-deal, the prime minister will be obliged under the Benn Act to request a Brexit extension from the EU.
What amendments have been chosen?
Former Tory MP Oliver Letwin has had his amendment — to withhold full approval for the Brexit deal until all the legislation to implement it was passed — selected.
It is worth noting that, should Letwin's amendment be passed, the big decision on the new deal could actually be delayed again.
Peter Kyle, a Labour lawmaker, has tabled an amendment to the second motion that outright rejects a no-deal scenario and holds that any "final decision" on the future relationship between the UK and EU must be put to a referendum.
That has also been selected.
Who is likely to get behind the new deal?
There are currently 650 seats in the Commons and Johnson needs at least 320 votes to give his deal a majority.
If any MPs abstain from voting, the number needed for a majority would drop too.
The Democratic Unionist Party (DUP) and its 10 MPs, which the Conservatives rely on for a working majority in parliament, have said they are against the deal, but the government is trying to win them around.
Parties that have come out and said they will vote against the deal include the Scottish National Party (SNP), Liberal Democrats, the Independent Group for Change, Plaid Cymru and the Green Party.
Key to whether the deal passes are a group of 28 Tory MPs dubbed the "Spartans" — Brexit hardliners that voted against former PM Theresa May's deal last year.
Some have already said they are going to back Johnson, while others are still sitting on the fence.
The 21 Conservative MPs who were expelled from the party in September, or had the whip withdrawn, will also be indispensable — most are likely to back the deal, several are expected to vote it down and some are undecided.
While Labour plans to instruct its MPs to vote against the deal, the government will also try to convince those in Leave-voting constituencies to get behind it.
As it stands, independents look split between voting against or resting in the "undecided" camp for now.
At the moment the numbers are looking too close to call, but one thing is sure — it's going to be a very tight vote.