UK PM Johnson: I won't resign to avoid asking for Brexit delay
Comments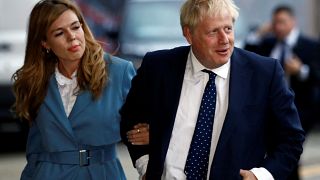 -
British Prime Minister Boris Johnson said on Sunday he would not resign to avoid having to delay Brexit beyond October 31.
Speaking to the BBC, Johnson said he would not resign even if he had to ask the European Union for another Brexit extension.
"I have undertaken to lead the party and my country at a difficult time and I am going to continue to do that. I believe it is my responsibility to do that," he said.
The British leader has pledged to take Britain out of the EU with or without a deal, despite parliament passing a law which would require him to ask for an extension to the Brexit deadline if lawmakers have not approved a deal.
His comments came as he joined members of his Conservative Party at their annual conference, being held in Manchester.
The event was however overshadowed by new allegations that Johnson had groped two women in the late 1990s when he was the editor of The Spectator magazine.
Columnist Charlotte Edwardes wrote in the Sunday Times that Johnson groped her at a lunch in 1999.
"Under the table, I feel Johnson's hand on my thigh. He gives it a squeeze," Edwardes wrote. "His hand is high up my leg and he has enough inner flesh beneath his fingers to make me sit suddenly upright."
Edwardes added she confided in the woman sat on the other side of Johnson after the meal, who told her he had also groped her.
A spokesman for the prime minister dismissed the allegation as "untrue."
The allegation came just days after authorities in London sent a referral to the Independent Office of Police Conduct to decide whether to investigate Johnson's ties to an American businesswoman after allegations of favourable treatment while he was Mayor of London emerged.
Johnson told the BBC that there was "no interest to declare" regarding his friendship with the businesswoman.
**READ MORE: ****Boris Johnson faces probe over alleged links to U.S. businesswoman**
The Conservative party conference is also expected to be upstaged by parliamentary anger over Brexit.
Parliament was reconvened last week after the Supreme Court ruled that Johnson's decision to suspend it for five weeks was unlawful.
Meanwhile, Brexit Party leader Nigel Farage said he would once again run for a seat in parliament in any upcoming election.
With the House of Commons in deadlock over Brexit, a new election is widely expected to come before the end of the year.
"Of course I will stand," Farage, whose party won the European Parliament elections in Britain in May, told Sky News when asked if he would run.
His confirmation puts pressure on Johnson to deliver a no-deal Brexit, despite the new law preventing him from seeking it, or face almost certain election defeat.
Want more news?