4 things to know about the 4 nominated for EU top jobs
Comments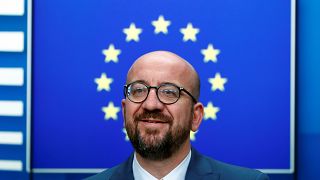 They are the new faces of the European Union. Here are facts about the politicians who have been nominated for EU top jobs on Tuesday.
Ursula von der Leyen - nominated for European Commission President
Ursula von der Leyen, 60, currently serves as German Defence Minister.
If approved by the EU Parliament, she will be the first woman to become EU Commission president.
An ally of Angela Merkel, she got into politics at 43 and has held various local political roles in the Hanover region before becoming the German federal minister of family affairs, senior citizens, women and youth in 2005.
She was born in Brussels and moved to Germany with her family aged 13.
Charles Michel - nominated for EU Council president
Charles Michel, 43, currently is the prime minister of Belgium.
If approved, he will be the second Belgian politician to preside over the EU Council, after Herman van Rompuy, who took the role in 2010.
A liberal and a member of Renew Europe, Michel is an ally of French president Emmanuel Macron.
He was elected to the Belgian Chamber of representatives in 1999, at 23, where he was the youngest MP in the House.
Christine Lagarde
Christine Lagarde, 63, is currently the director of the International monetary fund (IMF).
She was the first woman to hold the role, taking over from Dominique Strauss-Kahn in 2011.
A French lawyer and businesswoman, she has worked on and off in the US since 1995, coming back to France in 2005 to become a politician.
Forbes named her the world's 30th most powerful woman in 2006, and she was among TIME's 100 most influential people in 2010.
Josep Borrell
Josep Borrell, 72, is the Spanish minister for foreign affairs and the European Union.
He is a member of the Spanish Socialist Workers' Party and of the Socialist party in the European Parliament.
He was the president of the European Parliament from 2004 to 2007.
He is an academic and engineering specialist.
Watch the Good Morning Europe's report in the player above
Want more news?