Jailed Catalan leaders attend opening session of Spain's new parliament
Comments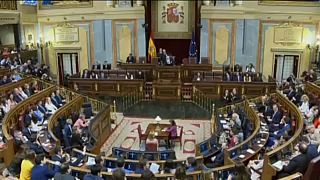 The opening session of Spain's new parliament took place on Tuesday morning, 20 days after general elections. And in an unprecedented move, five Catalan leaders were allowed out of prison so that they could be sworn in.
They include Oriol Junqueras, Catalonia's regional vice president, and three other separatists Josep Rull, Jordi Turull and Jordi Sànchez, who won seats during Spain's April 2019 general election but remain imprisoned, awaiting trial on rebellion, sedition and embezzlement charges. It is linked to their role in the 2017 Catalan independence referendum, which Madrid later declared illegal.
Meanwhile, it's the first time since the era of former dictator General Franco that a far-right party, Vox, is participating in the assembly, with 24 members, and whose head Santiago Abascal shook hands with Pedro Sánchez as the Spanish Prime Minister entered parliament.
The socialist leader also shook hands with Oriol Junqueras. However, Pedro Sánchez, who won the April 28 elections without getting a majority, has ruled out any kind of cooperation with either the far-right or the separatists.