Thousands take part in climate change protests across Europe
Comments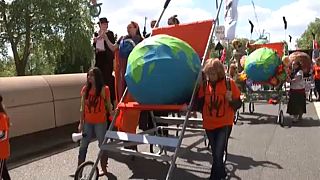 Thousands of people took part in demonstrations in many European capitals, with protests focused on the future of the planet and social justice.
In Brussels, protesters called for environmental issues to be at the centre of upcoming European elections.
"On the issue of climate change, we are calling for investments in trains, trams and the metro to reach at least 4 billion euros. On social issues, we demand equal wages and pensions for women and men. And then we come to health, where we want a better regulatory framework for the prices of medicines," one protester said.
One group of demonstrators staged a fake funeral to show that we are at the zero hour for the future of the planet.
"Our planet, the climate, all the living things are condemned. People should be shocked," another protester said.
In Great Britain, a group of women protesters with their children stood out on the streets of London.
"This is priority. Politicians need to understand that this is important and we need to act now," another protester said.
Similar demonstrations took place in Holland, Spain, Cyprus and the Czech Republic.