Long queues outside Spanish post offices as postal voters wait in line
Comments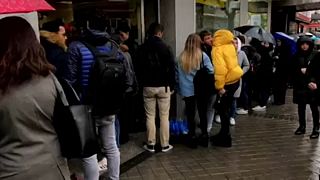 Long queues formed outside post offices around Spain as citizens who wanted to exercise their right to use a postal vote waited in line to do so.
More than 1.3 million citizens have registered to vote through the use of postal votes. However, they had to put up with extra suffering.
"We've been here in the queue for at least three hours and we still haven't finished," one young woman said.
"Citizens believe that to vote using a postal vote one week earlier is good, but now it doesn't look so good," one man waiting in line said.
Post offices were forced to extend their opening hours so that they could serve the public.
"Even this is a shame. We have to vote. We can't not vote," another woman said.
The electoral committee has decided to grant an extension to the postal voting procedure until Friday afternoon.