Extinction Rebellion activists protest on top of train at Canary Wharf
Comments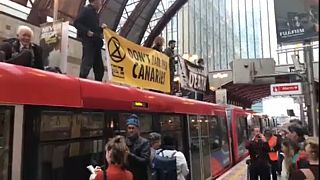 Activists from the Extinction Rebellion environmental group climbed onto the roof of a train at London's Canary Wharf station, holding banners protesting against climate change.
In the past 11 days, the environmental group has targeted Britain's financial sector, demanding that the industry realises the extent of what the activists call an ecological emergency, and its impact on our planet.
Extinction Rebellion claims it is participating in the biggest political disobedience campaign in Britain in recent times and has focused on the financial sector, which it claims is not telling the truth about the destructive repercussions the industry has on our planet.
Police have arrested 1,088 people since these latest protest actions started.
Meanwhile, seven Extinction Rebellion environmental protesters, dressed in black suits and red ties, and wearing futuristic visors, glued themselves and each other to create a human barrier in front of the entrance of the London Stock Exchange.
The controversial group held LED panels with text saying "tell the truth", "climate emergency" and "you can't eat money".
The Extinction Rebellion group has caused mass disruption in recent weeks across London, blocking Marble Arch, Oxford Circus and Waterloo Bridge, smashing a door at the Shell building and shocking lawmakers with a semi-nude protest in parliament.