Dublin Airport temporarily suspends all flights due to 'drone sighting'
Comments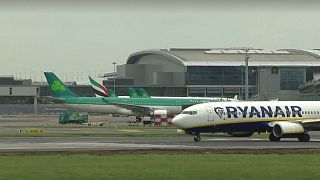 Dublin Airport was forced to temporarily suspend all flights on Thursday afternoon following a "confirmed sighting of a drone" near its airfield.
Several passengers took to Twitter asking how their journey would be affected, however, Dublin airport confirmed just a short while later that all flights had since resumed.
"A pilot reported a drone sighting to the Irish Aviation Authority (IAA), which operates air traffic control at Dublin Airport, at about 11.30am," Paul O'Kane, Dublin Airport's chief communications officer, told Euronews via email.
"A 30-minute suspension of flights was implemented by air traffic control at that point, which is the agreed procedure in such cases.
"As there were no further drone sightings within the 30-minute suspension period, Dublin Airport resumed flight operations shortly after noon."
Some "knock-on delays" to flights could be expected on Thursday, O'Kane added.
Airport drone-related incidents
While Thursday's incident at Dublin Airport appeared short-lived, it highlighted the ongoing issue and conversation about the recent spate of drone incidents at several airports worldwide in the last three months.
Just last week, "suspected drone activity" grounded all flights at Dubai International Airport in the United Arab Emirates.
Drone-related incidents also affected flights at London's Heathrow, and Newark Liberty International Airport in New Jersey, US, last month.
These incidents followed major disruption at the UK's Gatwick Airport in December, which affected hundreds of thousands of passengers travelling during the Christmas period.