'Synonymes' wins Golden Bear for Best Film at Berlinale Awards
Comments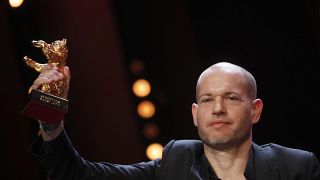 The Franco-German-Israeli co-production, "Synonymes" has won the Golden Bear for Best Film at the Berlinale Awards. The film was written and directed by Nadav Lapid.
It tells the story of a young Israeli man who runs away to Paris to flee his nationality, helped only by a Franco-Israeli dictionary.
It is scheduled to open in French cinemas on March 27.
French director Francois Ozon's "By the Grace of God" won the runner-up Silver Bear Grand Jury prize. The drama is about victims of child abuse in the Catholic Church and their fight for justice.
Wang Jingchun and Yong Mei won Silver Bears for best actor and best actress respectively for their joint lead roles as husband and wife in Chinese director Zhang Yimou's epic family saga, "So Long My Son."
The two play a couple who live through changing times in China as it emerges from the chaos of the Cultural Revolution and rises to become an economic superpower.
Other winners in the 69th festival included the German director, Angela Schanelec, who took Best Director for "I Was at Home, but..."
Golden Bear for Best Short Film went to "Umbra" by Florian Fischer and Johannes Krell.
The Silver Bear for Best Screenplay was given for "Piranhas,", a film by Claudio Giovannesi, based on the book by Roberto Saviano.
Later, Roberto Saviano dedicated his prize to; "the NGOs that save lives in the Mediterranean."
The festival also paid tribute to Switzerland's best known actor, Bruno Ganz, who died on Saturday aged 77.
Ganz was best known for playing Hitler in the 2004 film "Downfall." He had many roles in German cinema and theatre as well as English-language films such as "The Manchurian Candidate."