'Emi and the pilot are out there and we can't leave them' says Emiliano Sala's sister
Comments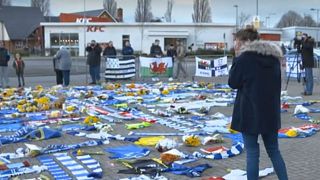 Romina Sala, the sister of Argentinian footballer Emiliano Sala whose plane disappeared near the Channel Islands, said it was her "priority" to continue searching for her brother despite rescuers ending their search. She was sure that her brother and the pilot were out there.
"We can't leave them," she said during an emotive press conference in Cardiff, UK, on Friday.
"We came looking for him and we're going to take him back with us," she added.
Guernsey police called off the search on Thursday after the footballer's plane disappeared on Monday near the Channel Island of Alderney.
Read: Search for missing footballer Emiliano Sala has been called off: Guernsey Police
But Emiliano's sister said her family would continue the search "until the very end".
"We are not going to stop looking, we are never going to stop. I want to find my brother...and I have faith that we will find him."
The footballer's former club FC Nantes and star football players such as Lionel Messi and Sergio Aguero have asked authorities to keep looking for Emiliano.
The Argentinian government has also gotten involved. On Friday, the country's foreign minister asked Britain and France to renew searches for the missing football player, said a government statement. 
Signed for more than €17 million to Cardiff City, Sala was travelling from Nantes where he was saying goodbye to his former teammates before moving to the Welsh capital. 
Romina Sala also thanked football players and fans for their support during the tough times.
What we know of the pilot flying Sala's plane
On Wednesday, local authorities named the pilot, and the only other person aboard the plane, as David Ibbotson. 
A spokesman for Britain's Air Accidents Investigation Branch (AAIB) told the AFP later in the week that they were probing the licence held by Ibbotson. 
"Our purpose is not to apportion blame or liability. Our purpose is to establish the cause of an accident," said the spokesman.
Ibbotson flew Sala in a single-engine Piper PA Malibu aircraft registered in the United States. 
The US Federal Aviation Administration (FAA) database shows that Ibbotson holds a private pilot license. 
EU aviation rules posted online by the Civil Aviation Authority (CAA), a private pilot licence is meant "for recreational flying only".
"You aren't allowed to be paid for any flying you do using one, apart from some flight instructor work," says the website, adding pilots receiving payment need a commercial license.