Theresa May suffers Brexit setback over no-deal scenario and MPs table 'no-delay' amendment
Comments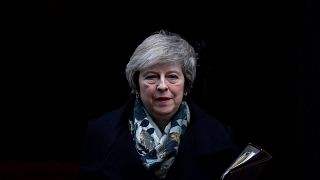 British MPs defeated Theresa May's government on Tuesday by winning a vote which places a new obstacle for the UK to crash out of the EU without a deal.
Lawmakers voted on an amendment to the Finance Bill, which was won with 303 to 296 votes. It now means the government will have limited spending on no-deal preparations unless it has parliament approval.
Twenty Tory Ministers rebelled against the government in the vote.
British Prime Minister Theresa May's office had played down the technical impact of defeat. A UK Government spokesman said it will work with parliament to ensure the tax system works smoothly in all Brexit scenarios.
However, as the leader of a minority government and a divided party, the defeat highlights May's weak position, especially as she is due to hold a key vote next week on the Brexit deal she agreed with the EU in November.
The leader of the opposition Labour party, Jeremy Corbyn said: "This vote is an important step to prevent a no-deal Brexit. It shows that there is no majority in Parliament, the Cabinet or the country for crashing out of the EU without an agreement."
However, Treasury minister Robert Jenrick told Parliament the proposal's only impact would be to make the country "somewhat less prepared" for a crash out of the bloc.
A no-deal Brexit could happen if ministers vote down May's deal on 15 January. However, that could be less likely with the government's defeat on Tuesday.
On Wednesday morning, a number of MPs signed up to an amendment tabled by Conservative MP Dominic Grieve. The amendment aims to ensure that, should the plan be voted down, the prime minister will not be able to delay another vote for longer than three parliamentary sitting days.