Hanover airport resumes normal operations after man pursues passenger plane in car
Comments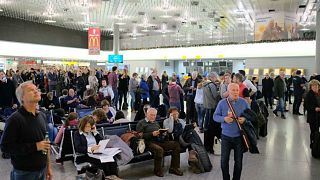 Germany's Hanover Airport has resumed normal operations after flights were temporarily suspended on Saturday when a man drove a car through a gate onto the tarmac near the runway, police said.
"Police checks of the vehicle have been completed, no dangerous objects were found. Hanover airport resumed operations at about 20:05 (1905 GMT)," Hanover police tweeted.
Officers said they chased the man along the tarmac as he pursued a Greek passenger plane with 172 on board.
"The BMW stopped below the plane and federal police officers overwhelmed the driver in his car, resisting," Hanover police spokesperson Thorsten Schiewe said in a statement to Euronews.
The man, who told police he is 21-years-old and from Poland, was quickly arrested and taken into custody.
The car was reportedly registered in Poland and officers said no dangerous items were found inside. The incident is not being treated as terror-related.
Authorities added the man was drug tested and results showed "indications of anaesthetic effects."
A terminal at the airport was closed to passengers temporarily but the other two remained open.
Planes scheduled to land were diverted to other airports while authorities dealt with the incident.
Hanover Airport is an important hub in Germany offering both domestic and international flights. In 2017, 5.87 million passengers passed through this airport.
"The investigation into the background (of the incident) continues," police said.
"There are currently no indications of a terrorist background."