Russia dismisses Franco-German demand to release Ukrainian sailors
Comments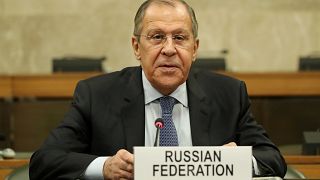 -
Russia on Saturday flatly rejected demands from the leaders of France and Germany to release more than 20 Ukrainian sailors detained since the country seized three military Ukrainian ships last month.
German Chancellor Angela Merkel and French President Emmanuel Macron slammed Russia for human rights violation in Crimea and the country's "abusive" naval controls on the Sea of Azov in a joint statement issued on Friday.
They also demanded the release of the 24 Ukrainian sailors currently detained in Russia following last month's altercation in the Kerch Strait.
"We demand safe, free and unimpeded transit for all ships through the Kerch Strait and the immediate and unconditional release of all illegally detained Ukrainian seafarers," Merkel and Macron said.
"They too should be able to celebrate the upcoming festivities with their families," referring to New Year's Eve and Christmas, which is celebrated in Russia and Ukraine on January 7.
'Unacceptable demands'
But the Russian Foreign Ministry bluntly dismissed those calls on Saturday, describing them as "regrettable" and accusing the West of "double standards."
"It is regrettable that the second part of this statement, in which Berlin and Paris presumptuously accuse Russia of certain violations of human rights in the Crimea and escalation of tension in the Sea of Azov and the Kerch Strait, present us with unacceptable demands," a statement from the Foreign Ministry said.
It reiterated its stance that the 2014 annexation of Crimea was lawful because its inhabitants "made their informed choice as a result of free will and in accordance with international law."
It also, once again, accused Ukraine of human rights violation alleging discrimination against Russian-speaking minorities.
"We are forced to again urge our partners to abandon overt "double standards" and pay attention to the real problems and threats" against "European security and stability," it added.
Russian President Vladimir Putin and Merkel also discussed the situation during a phone call on Friday, the Kremlin had previously announced.
'Aggression in the Black Sea'
Martial law, imposed in ten Ukrainian regions along the Black Sea and borders with Moldova and Russia after Russia seized the three Ukrainian ships last month, came to an end on Wednesday.
The emergency measure banned Russian men of combat age from entering the country and put security services on high alert.
Ukrainian President Petro Poroshenko said then that the country would look at imposing further sanctions on Russia following what it described as the "aggression in the Black Sea."
Russia however has firmly put the blame on Ukraine accusing it on violating its territorial waters in an act of "provocation" — which Ukraine refutes.