Macron and Merkel demand release of Ukrainian sailors
Comments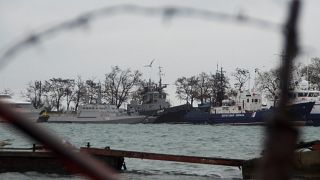 -
France and Germany say Russia must release 24 Ukrainian sailors in time for New Year and Orthodox Christmas.
The sailors and their ships have been held since a confrontation in the Kerch Strait in late November.
The Kremlin says the sailors provoked the incident by entering Russian waters without permission. But Kiev has accused Moscow of military aggression and says it seized the two gunboats and a tugboat illegally.
In a joint statement on Friday, French President Emmanuel Macron and German Chancellor Angela Merkel also called for the "safe, free and unimpeded transit for all ships through the Kerch Strait".
The Strait links the Black Sea with the Sea of Azov, off the coast of Crimea. The maritime spat was the latest in a long-simmering conflict between the two neighbours that started when Russia annexed Crimea from Ukraine.
Speaking to reporters in Berlin, German government spokeswoman Ulrike Demmer said "the human rights situation in Crimea, which was annexed by Russia in violation of international law, and the use of military force by Russia in the Kerch Strait and abusive checks in the Sea of Azov" are also "a source of great concern" for Macron and Merkel.
Demmer said the two leaders have vowed to keep pushing to implement a 2015 peace deal.