French police release key 'gilets jaunes' activist Eric Drouet
Comments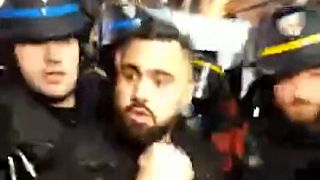 Police released a key activist in France's 'gilets jaunes' (yellow vests) movement on Thursday after detaining him for organising a protest without declaring it.
Officers detained Eric Drouet, often seen on television talking about the anti-government protests, as he travelled to Champs Élysées on Wednesday evening in Paris where demonstrators were convened.
The group reportedly said the purpose of the meeting was to light candles for those injured in the last six weeks of protests across France.
A critic of French president Emmanuel Macron and member of the National Assembly, Jean-Luc Melenchon, tweeted: "Again, Eric Drouet arrested, why? Abuse of power. A politicised police force targeting and harassing the leaders of the yellow vests movement."
The gilets jaunes movement, named after the fluorescent jackets worn by activists, was sparked in November in rural France after the government announced fuel tax hikes.
It spread into a wider revolt against Macron's policies, which demonstrators said were skewed towards businesses and the wealthy.
Bruno Le Maire, France's economy minister, defended the arrest.
"It's called respecting the rule of law ... It's normal that when you break the laws of the republic, you face the consequences," he said.
Drouet was released on Thursday and defended his intentions.
"It was just an appointment to go to the restaurant together, especially since we did not have a yellow vest, we did not go on the road, we walked on the pavement, respected the pedestrian crossings. From beginning to end we were straight and it was not enough," he told reporters as he left a police station in Paris.
The activist faces another charge for "carrying a prohibited category D weapon", for which he was arrested last month, the AFP reported.