Bomb goes off outside Athens church
Comments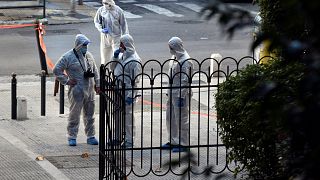 An explosive device wounded a police officer and a civilian when it detonated outside a church in central Athens early on Thursday, shortly before liturgy was due to start and without warning, police and state media said.
There was no claim of responsibility for the attack outside the Saint Dionysios church in the heavily policed Kolonaki quarter which borders on Exarchia, a district where clashes between police and anarchists are common. It is the seat of the country's Catholic Archbishop.
The police officer and the church caretaker were taken to hospital and police cordoned off the area. Their injuries were not life-threatening, health officials said.
"I do not understand why they've hit the church. Jesus means love. I do not understand why they didn't call before, to a TV station or a newspaper," said Father George from the church.
The blast occurred at around 7 a.m. local time, just before the church was due to open to the public for a service half an hour later.
Police are checking footage from surveillance cameras in the area.