'Gilets jaunes': Five takeaways from Macron's address
Comments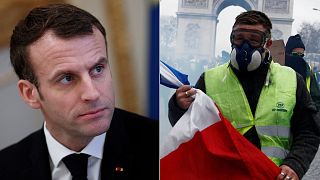 French President Emmanuel Macron addressed the nation amid criticism that he has failed to act over the crisis sparked by his economic reforms.
Here are the key takeaways from his speech.
'I take my share of responsibility for this'
In the long-awaited speech, Macron said protesters' anger and indignation was "deep, and in many ways legitimate" but "no anger justifies attacking a police officer, a gendarme or damaging a shop or public building".
"We undoubtedly haven't been able to provide a sufficiently fast and strong response for a year and a half," said Macron. "I take my share of responsibility for this."
"I want tonight to be very clear with you. If I fought to shake up the political system, habits and hypocrisy it is precisely because I believe more than anything in our country and I love it."
Minimum wage increase
Macron went on to say one of the measures his government would introduce to enable French workers to live with "dignity" would be an increase the country's minimum wage by €100 per month from the start of next year.
Tax concessions
The French president also announced that overtime hours would not be subject to tax from 2019, while employers would be asked to pay a tax-free end of year bonus to employees.
Will not reinstate 'wealth tax'
Despite controversy and claims that Macron was a "president of the rich", he said he would not go back on his wealth tax reforms but things would not "go back to normal … as if nothing has changed".
Tax increase for low-income pensioners scrapped
A planned tax on pensions under €2,000 a month would be cancelled, added the French president.
The "gilets jaunes" (yellow vests) movement started on November 17 on social media as a response to hikes in fuel prices and has since become a wider protest of social inequalities.
Despite an announcement from the Elysee that it would scrap a planned increase in fuel tax, an estimated 10,000 protesters took to the streets of Paris on Saturday, while a further 125,000 marched in other towns and cities across France, according to the Interior Ministry.
Armoured vehicles were deployed in Paris for the first time and the police force boosted to 8,000 across the city.
As many as 2,000 people were arrested and 264 people were injured in the violence, including 39 police officers.