'Gilets jaunes': Hundreds of speed cameras in France out of service since protests began
Comments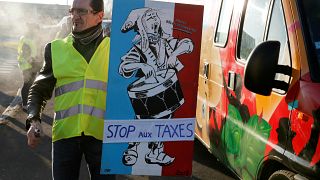 Hundreds of speed cameras have been disabled since the "gilets jaunes" ("yellow vests") protests erupted in France, it's been claimed.
It is thought they became a target because the devices are a symbol of a government that protesters claim is taking too much money from them.
Broadcaster Europe 1 claims that as many as half of all France's automatic speed cameras have been put out of service.
While the majority of cameras have been disabled since the start of the yellow vests protests, some were disabled after a change to speed limits.
The government cut the maximum speed on France's secondary roads from 90km per hour to 80 km/h in the summer.
It was part of a drive to reduce road deaths but some polls have suggested up to 70% of the population are opposed to the change.
Critics took the measure as more evidence of a president and a party rooted in Paris and out of touch with life in rural France, while cynics suggested it was a ploy to raise money from speeding fines.
The amount collected from speed camera fines was projected to rise by 12% to reach a record high of more than €1 billion in 2019 after the new limit was introduced.
Pierre Chasseray, a spokesman for French motorists' association 40 millions d'automobilistes (40 Million Motorists), told AFP several hundred speed cameras had been disabled, the majority since the yellow vests movement began.
Chasseray called on Macron to reverse the speed limit change.
"Mr Macron has no choice," he said. "It's time to do it. It is crucial for him to renew the link with the French.
"The popularity curve of Mr Macron has reversed following the lowering of the speed limit to 80 km/h."