'Gilets jaunes': who are they and what do they want? | Euronews answers
Comments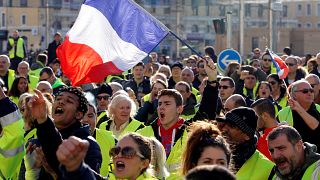 -
Copyright

REUTERS/Jean-Paul Pelissier
France will suspend controversial increases to fuel taxes that have sparked three weeks of protests by the 'gilets jaunes' (yellow vests) movement — marking the first major U-turn by President Emmanuel Macron's administration.
The fuel tax hikes will be suspended for at least six months, announced Prime Minister Edouard Philippe in a televised speech on Tuesday, adding that anyone would have to be "deaf or blind" to not see the anger.
"No tax is worth jeopardising the unity of the nation," he said.
The French economy has been badly hit due to three weeks of 'gilets jaunes' (yellow vests) protests, said French Finance Minister Bruno Le Maire on Monday.
Le Maire said that sector revenues, particularly retailers, hotel chains, high-street stores, and restaurants, have been hit by between 15 and 50%.
The 'gilets jaunes' movement started on November 17 on social media as a response to hikes in fuel prices and has since become a wider protest of social inequalities.
Riot police had a tough time controlling protesters on Saturday who wrought havoc in Paris' fanciest neighbourhoods, setting cars on fire, looting shops and cafes in some of the worst riots the capital has seen since the 1968 student protests.
However, the 'gilets jaunes' have no defined leadership or an official group, which has made it harder for the government to engage with them.
So who are the 'gilets jaunes' and what do they want? Euronews gives you answers to some of the pressing questions about the rising anti-government movement.
How was this group born?
Discontent was triggered by the government's measures to keep increasing a direct tax on diesel, a fuel commonly used by motorists in France, as well as the carbon tax. Protesters see these as disproportionately affecting those who use their cars to get to and from their jobs every day.
To add to this, French President Emmanuel Macron suppressed a tax on wealth, which only applied to people who possessed taxable net assets of more than €1,3 million. Macron's economic reforms are seen as favouring the wealthy.
Who are they?
The 'gilets jaunes' are a very heterogeneous group whose supporters span across age, job, and geographical region and comprise unemployed youth, retired people with very low pensions, and people who earn the minimum wage.
Read: What are the 'gilets jaunes' so upset about? | Euronews Answers
There are also far-right and far-left militants who've joined the protests. But some protesters have sought to distance themselves from these radical and violent fringe elements of the movement.
The movement has also become politicised by leaders such as the Front National's Marine Le Pen or the leftist Jean-Luc Melenchon — who've expressed public support for the group.
A French interior ministry spokesperson told Euronews by text message there were 136,000 protesters nationwide from which 10,000 were in Paris on Saturday.
A recent poll by Harris Interactive for French media RTL and M6 found that 72% of French people support the 'gilets jaunes'.
But 85% of people who participated in the poll were against the use of violence.
What do the 'gilets jaunes' want?
A demand to stop rising tax hikes on fuel was only the beginning. As time progresses and protests continue, the list of demands has only increased.
In a statement sent to media outlets, the 'gilets jaunes' movement made public a list of 40 demands they were planning on presenting to the government, including changes on housing, taxes, health, education, and public finances.
In another article, published in the newspaper Le Journal du Dimanche, a collective of gilets jaunes made another set of longer-term demands.
"We ask to know what the taxes are being used for, a social national conference, regional debates on 'territory and mobility', regular referendums on social and societal questions in the country, the adoption of proportional representation for legislative elections so that the population be better represented in parliament."
More immediately the movement is asking for the freeze of tax hikes on fuel and the cancellation of technical controls on vehicles.
"We want to reach an agreement quickly so the economy of the country can get back in good shape before the festive season," wrote the representatives.
But their core goal can be resumed to one thing: stop the rise of already high living costs and bolster spending power for the middle-class.
What has the government done to defuse the violence?
In his first major u-turn after 18 months in office, President Macron decided to suspend the controversial increase to fuel taxes for at least six months in response to three weeks of violent protests.
In a televised speech on Tuesday (December 4), Prime Minister Philippe said they would use that time to discuss other measures to help the working poor and the middle class who rely on vehicles to get to work.
Other measures Philippe announced to combat the rising anger are:
A freeze on the rise of electricity and gas until May 2019

A suspension on the reform of MOT tests that was planned for next year

A consultation with citizens on taxes so the government can be more transparent in this area.
Reaction to the u-turn
"Six months? six months...That's surely very random if it brings us to just a few days after the (European) elections" said Marine Le Pen, president of the far-right National Rally party.
"A very shy step but nothing on salaries, nothing for pensioners, nothing to increase the government's revenues (the wealth tax) and restore our public services!" tweeted the secretary of the French Communist Party, Fabien Roussel.
"The purchasing power question was never addressed by the government," secretary of the Socialist Party, Olivier Faure, told French media.