Increased security ahead of Saturday's yellow vest protests
Comments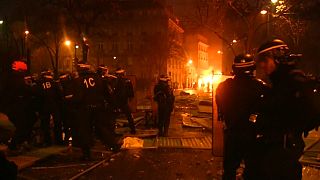 France is raising security measures ahead of planned protests this Saturday amid fears of further violence after police were overwhelmed last weekend. Authorities have now also decided to cancel a football match between two of France's biggest teams St Etienne and Olympique Lyonnais and close some museums in the capital.
The government had announced it would scrap a fuel tax hike that had initiated the protests but it does not seem this will appease those protesting explains our correspondent in Paris, Valerie Gauriat.
"The general sentiment is that this decision came too late, the fuel tax is like a detail in this conversation," she says. "There are many more topics of discontent within French society and we are seeing more groups announcing that they will announce strikes in the next few days."
France's Finance Minister, Bruno Le Maire has since said that he is prepared to increase government tax cuts as long as these were coupled with spending cuts.
The demonstrations were triggered by fuel tax increases, but have now extended to a whole host of issues that generally represent a sense of disillusionment among many in France who are struggling to make ends meet.
Last weekend, France saw the worst violence in decades – leaving four people dead and hundreds more injured.