Catalan separatist leaders go on hunger strike
Comments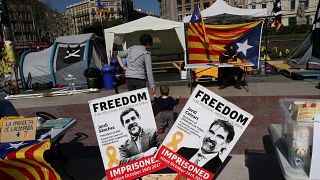 Two Catalan separatist leaders said on Saturday they were starting a hunger strike in protest over the treatment they have received by Spain's judiciary.
The lawyer of leaders Jordi Sanchez and Jordi Turull told journalists in Barcelona that they had started refusing food as the courts failed to process numerous appeals in relation to their cases.
Jordi Pina said in a statement: " One of the only legit protests that these people are allowed to do is - hunger strike."
Madrid took direct control of Catalonia after the region declared independence last year. The country's Supreme Cort brought charges of rebellion and misuse of public funds against 18 separatist leaders, nine of them are in prison awaiting trial.
The trial is expected to begin in early 2019.
A Spanish government spokesperson said the jailed separatists would get a fair trial."Only the judiciary is responsible for sentencing," the spokesperson added.
Tensions with the central government have eased since last year but the Catalan government has continued to advocate for a referendum on leaving Spain.
"We are living in an utterly unacceptable situation in Catalonia," said Catalan President Quim Torra on Saturday.
"It is not acceptable that the complaint filed by them to the Constitutional Court have not been resolved. The discredit of the judiciary power, and the credibility of the Constitutional Court is null, zero. They do this action to highlight that Catalans can find justice outside Spain in Europe," he added.