Taiwanese puppeteer fights to rescue declining art
Comments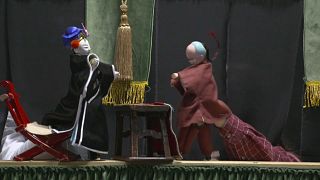 Taiwanese glove puppeteer Chen Hsi-huang is featuring in a new film which reflects his purpose to revive the traditional form of ancient entertainment.
The film, "Father", tells the story of how the 87-year-old pursued the ancient craft in the shadow of his father, the legendary puppeteer Li Tian-lu, who drew massive audiences to his shows in the 1950s-1970s and featured in several movies.
Also known as "Budaixi", glove puppetry extended to Taiwan in the 19th century from the southeastern Chinese province of Fujian and was largely performed at religious and festive occasions, becoming a widespread form of entertainment.
Puppeteers operate small glove dolls on decorative wooden stages to present historical and martial arts folklore supplemented by live folk music.
Chen said he values traditional puppetry because it is characterised by subtle movements, with the puppeteer taking on all roles, from a young girl to an elderly man.
He first started his own troupe at 23-years-old but his business suffered and was forced to close down. He went on to teach the craft and continued to perform with other groups in Taiwan and overseas.
At the age of 79, inspired by his dream to prevent the art form disappearing completely in the world of modern entertainment, he set up a new group and now teaches puppetry at weekend classes as well as taking on apprentices.
Chen admits there are hurdles facing the ancient art, saying people in today's modern world have less time to watch the shows.
However, appreciates the positive reaction to the documentary directed by local filmmaker Yang Li-chou over a decade, and that premiered in Taiwan last month.
"I was worried that people might not understand the film, but young people did, even if they hadn't watched Budaixi before. They told me they liked it and that puppetry is awesome," said Chen.
Chen's current apprentice Chen Wei-you is part of a family ensemble that puts on as many as 150 puppet shows a year.
Students of all ages attend Chen's classes at the government-funded Puppetry Art Centre in Taipei every Saturday.
Student Hung Wei-heng, 10, said he was interested in learning puppetry because it was "very cool".
"I want to learn how to operate the puppets and to make the movements," he said.
Taiwanese authorities are trying to endorse the traditional craft, organising an annual puppet festival in Yunlin county.
Puppet master Chen promises to continue teaching and performing as long as he still has the strength. "I haven't completed passing on the art so I can't retire," he said.