Europe briefing: Paris attacks remembered and 'endgame' for Brexit talks
Comments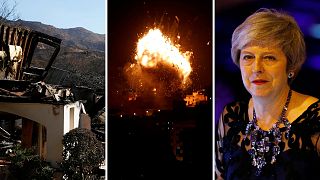 1. Frontrunner for EU's top job wants dialogue with Italy over budget dispute
German conservative politician Manfred Weber, who's running for the European Union's top job next year, said he wanted to pursue dialogue with Italy to resolve its fight with the EU over its 2019 budget plans. 
The European Commission rejected Italy's draft fiscal plan last month and has threatened to impose penalties if it is not revised with EU rules. Rome has until Tuesday to present a new budget.
2. Kremlin critic Alexei Navalny says he's barred from leaving Russia
Kremlin critic Alexei Navalny said he was stopped from leaving Russia on Tuesday. 
Navalny, a fierce Putin opponent, said border guards had detained him as he tried to pass through passport control at Moscow's airport and told him he could not leave because of a ruling by the Federal Bailiffs Service. 
Russians are not allowed to leave the country if they have unpaid fines or debts but Navalny wrote in his blog that he didn't have any outstanding debts.
3. Theresa May says Brexit negotiations reach 'endgame'
British Prime Minister Theresa May said Brexit negotiations are "now in endgame". 
May said talks were "immensely difficult" but that both sides had worked "through the night" to make progress. 
The EU wants an agreement on a draft by the end of Wednesday at the latest if there is to be a summit this month to approve it. It remains unclear whether May can get a deal through parliament.
4. Norwegian navy ship sinks further, nearly submerged
A shipwrecked Norwegian navy ship that collided with an oil tanker off the Norwegian coast last week sank further on Tuesday and was almost completely submerged. Pictures shared by the Norwegian Coastal Administration showed the state of the ship.
The ship's main concern was not disrupting the nearby Sture crude oil export terminal. "We are in normal operations," said a spokeswoman for the plant's operator, Equinor.
The Norwegian military has been working since Thursday to save the ship by bringing it closer with cables to the shore.
5. Memorial for 2015 Paris attacks
On this day three years ago, France's national football stadium, cafes, restaurants, and a concert hall in Paris came under attack. 
The tragedy saw over 130 dead and hundreds wounded. French authorities gathered today to commemorate those who lost their lives and all those suffered from the attacks.