Paris honours victims of deadly 2015 terror attacks
Comments
By Philip Pangalos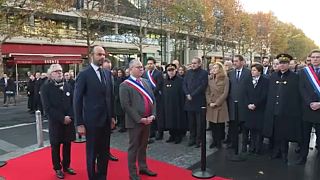 It's been three years since France's deadliest ever terror attacks when Paris was hit by a series of coordinated attacks that left over 130 dead, hundreds injured and an entire country in shock.
On November 13, 2015, France's national football stadium, cafés, restaurants and a concert hall were targeted - in a night that many will never forget. Especially those who lived through it.
A series of commemoration events were held on Tuesday throughout the French capital for victims of the coordinated attacks, which the so-called Islamic State group claimed responsibility for.
Prime Minister Edouard Philippe and Paris Mayor Anne Hidalgo led commemorations at all six of the targeted sites.
Outside the Bataclan theatre, where 90 people were gunned down during a rock concert, the names of those who died were solemnly read out. Dignitaries, including London Mayor Sadiq Khan, stood on the street in silence with heads inclined.
The attacks, which began with suicide blasts outside the Stade de France, the national stadium north of Paris, during a friendly football match between France and Germany attended by then president Francois Hollande, and continued with several mass shootings and a suicide bombing at cafes and restaurants in the city, were the deadliest in France since World War Two.
French Prime Minister Edouard Philippe laid a wreath at the spot where Manuel Dias, the only victim at Saint-Denis, was killed.
As well as the 130 people killed, more than 400 were injured, many of them seriously. Seven attackers, most of whom had French or Belgian citizenship, were killed. Several of them had fought in Syria and all were Islamic State adherents.
As part of the day of commemoration events for victims of the multiple, coordinated attacks, multicoloured balloons were released into the sky above Paris in honour of the 130 victims of the 2015 attacks at the Bataclan concert hall, as well as Paris cafes and at the Stade de France.