Trump lectures critics, media on civility after pipe bombs sent to high-profile Democrats
Comments
By Jonathan Allen with NBC News Politics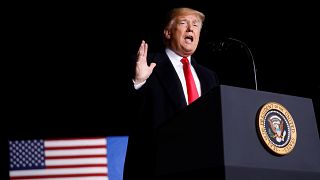 Copyright

Kevin Lamarque Reuters

-
MOSINEE, Wisc. - President Donald Trump called for civility and unity after pipe bombs were mailed to several of his high-profile critics and CNN's New York offices Wednesday, but he spared his own supporters the lecture he delivered to Democrats and the media on how to lower the temperature of the national political discourse.
Speaking in an airport hangar here in Central Wisconsin, Trump promised to "find those responsible" for sending bombs to former President Barack Obama, former Secretary of State Hillary Clinton and other prominent critics of the president, and "bring them to justice."
He said he wanted Americans to "come together in peace and harmony."
Then, without naming a party, he pivoted to condemning Democrats.
Americans "should stop treating political opponents as morally defective," not "compare political opponents to historical villains" and "not mob people in public."
It was clear that Democrats, whom he later lambasted in policy terms, were his target.
Some on the left routinely compare Trump to brutal dictators, including Adolf Hitler and Benito Mussolini, and the president has been campaigning against what he says are Democratic "mobs" for weeks.
Trump also said voters "must accept the verdicts of elections" — a clear reference to Democrats who have said his presidency is illegitimate because of Russian interference in the 2016 election and because he lost the popular vote.
The crowd here cheered heartily at his remark on not mobbing political officials.
Trump also pointed a finger at the media, chiding the press for "endless hostility."
"The media also has a responsibility to set a civil tone and to stop the endless hostility and constant negative and oftentimes false attacks and stories," Trump said.
Some in the audience yelled "CNN sucks."
Still, it was a more subdued version of Trump here Wednesday night. He attacked Democratic policies but shied away from his typical targeting of individual political opponents for scorn.