Trump calls for more civility — but does he practice what he preach?
Comments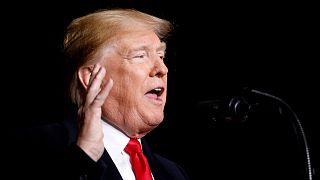 In the stormy aftermath of bombs being sent to senior Democrats and supporters of liberal causes, Donald Trump adopted a softer tone.
Speaking at a rally in Wisconsin, the US president condoned political violence and called for more civility.
Amid claims his comments were hypocritical, we look at three of Trump's key quotes and compare them to his past actions.
1. Trump calls for more civility
Trump now: "As part of our larger national effort to bridge our divides and bring people together, the media also has a responsibility to set a civil tone and to stop the endless hostility and constant negative and often times false attacks and stories - have to do."
Trump before: The US president has been a constant critic of certain media organisations, most notably the New York Times and CNN.
Trump has sent scores of tweets criticising CNN — as this tally attests — and the network was among those to be sent a bomb.
But, perhaps most memorably, Trump also sent a tweet of archive footage showing him body slamming a wrestler, with the CNN logo superimposed over his victim's head.
2. Trump condones political violence
Trump now: "No nation can succeed that tolerates violence or the threat of violence as a method of political intimidation coercion or control."
Trump before: A week before the above quote, Trump heaped praise on a US congressman from Montana who body-slammed a reporter in 2017.
Greg Gianforte was ordered to perform community service as part of his sentence for attacking Ben Jacobs, a correspondent for Britain's Guardian newspaper, the day before a special election to fill Montana's sole congressional seat.
"Any guy that can do a body-slam, he's my guy," Trump told a political rally in Missoula last week.
3. Trump wants better treatment of political opponents
Trump now: "Those engaged in the political arena must stop treating political opponents as being morally defective."
Trump before: During the race to become US president, Trump referred to his opponent as 'Crooked Hillary'.
He also mocked her stumble as she got into a car after a 9/11 ceremony, in the run-up to the 2016 election.
Trump's other attacks in the political arena have included: