Watch: Animals at Antwerp Zoo enjoy pumpkin treats
Comments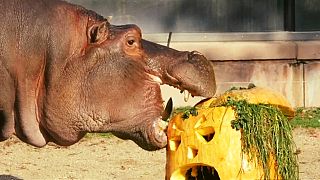 Halloween fun has started early at one zoo in Europe, as animals at Antwerp Zoo in Belgium have started enjoying carved pumpkins already.
Slow motion videos show how the furry residents enjoy the pumpkins filled with special treats.
Antwerp Zoo is the oldest animal park in Belguim and dates back to 1843 with around 5,000 animals and 950 different species.