Baby elephants wow crowds at San Diego Zoo
Comments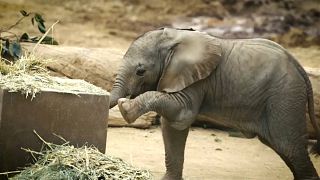 Two elephant calves have thrilled crowds with their first appearance at San Diego Zoo.
The two-week-old unnamed female and nine-week-old male named Zuli are in good health.
Zuli was born August 12; The baby girl, born September 26, is nursing more frequently, so she stays closer to mom. Zuli, born at 270 pounds (122kg), is now 409 pounds (185kg). The female calf, born at 281 pounds (127kg), weighed in at 316 pounds (143kg) Thursday. The young elephants will continue to nurse for at least two to four years, gaining two to four pounds (0.9-1.8kg) a day.
The two calves have met, but they do not interact much at this stage, calves have plenty of "aunties," who help the moms out by group parenting, in which individuals other than the parents act in a parental role.
The Safari Park is now home to 14 elephants -- four adults and 10 youngsters. The adults were rescued in 2003 from the Kingdom of Swaziland, where they had faced being culled. A lack of space and long periods of drought had created unsuitable habitat for a large elephant population in the small southern African country.