El Gouna Film Festival brings regional & international stars to Egypt
Comments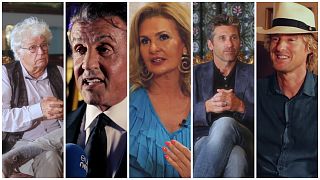 The El Gouna Film Festival made its debut in the Middle East and North Africa region just last year, and for its second edition it stepped up the pace with 80 films from more than 30 different countries.
One of this year's highlights was The Cine El Gouna Platform which hosted more than 14 masterclasses, plus handed out twelve awards and film grants totalling US$150,000.
'A Land Imagined' by Singaporean director Siew Yeo Hua won the Golden Star for Narrative Film (find the full list of winners below). The film tells the story of a police investigation in Singapore which seeks to uncover the truth behind the disappearance of a migrant construction worker.
Egyptian-Austrian writer and director Abu Bakr Shawky won Best Arabic Film and the Cinema for Humanity Award, for his first movie 'The Day of Judgment' (Youmeddine) which tells the story of two lepers.
The film also won the François Chalais Prize in Cannes earlier this year and was pre-selected for the 2019 Academy Awards in the Best Foreign Language Film category.
"It is a huge honor to get two awards on our movie, that we did on a very small scale," Shawky says.
Another key moment of the festival was a tribute concert to the acclaimed late-Egyptian director Youssef Chahine, who paved the way for many stars of Arab cinema during his sixty-year career.
This year's edition of the festival featured many iconic regional celebrities, such as Egyptian actress Yousra. It also hosted international celebrities from the film and television industry, such as Sylvester Stallone, Owen Wilson, Patrick Dempsey and Jean-Jacques Annaud.
THE EL GOUNA RED CARPET ON SOCIAL MEDIA
Egyptian actor Hassan El Raddad posed for this selfie with Lebanese singer Maya Diab.
And Egyptian actress Yasmin Raeis danced the night away with actor Ahmed Dawood and Yousra with the hashtag 'life as it should be'.