Patrick Dempsey and Jean-Jacques Annaud present new TV series at the El Gouna Film Festival
Comments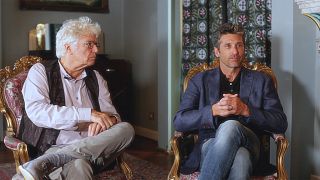 During the second edition of the El Gouna Film Festival in Egypt, Grey's Anatomy star Patrick Dempsey and French director Jean-Jacques Annaud presented a preview of their new television miniseries 'The Truth About the Harry Quebert Affair'.
Dempsey and Annaud sat down with Inspire Middle East to talk about the challenges and prospects of the new show, and shared their perspective on the region's film industry.
A NEW OPPORTUNITY FOR DEMPSEY
In the ten-part drama series, based on the Joel Dicker novel of the same name, Dempsey plays the role of a famous yet recluse writer who is accused of murdering a teenage girl.
The mysterious plot develops as it skips through time, from the 1970's to present day - a narrative which Dempsey considered a new challenge in his acting career as his character aged through the decades.
"It was different than the characters I've played in the past. A bit more complex, a little darker," he says.
"As an actor, I've never really done anything with so much makeup on," he adds. "It was quite challenging to be patient for five or six hours to get the makeup on, but it was fun to be able to do that, to lose yourself in the character."
ANNAUD'S FIRST TV SERIES
'The Truth About the Harry Quebert Affair', is the first television series executed by internationally-acclaimed film director Jean-Jacques Annaud.
Annaud drew upon his expertise gained shooting for the big screen in the creation of his latest endeavour.
"I didn't think of it as making television," he says, "I shot it as if it was a long movie. I wanted to get the intensity of the characters, therefore I used a technique that I've been using for years."
The director heralds his television debut as something of a personal triumph.
"For years, I was looking for something that would allow me to do television, because I think television today gives you more freedom," says Annaud.
"Cinema is unfortunately moving in two opposite directions: cinema for festival and cinema for kids - with a lot of explosions and car crashes. There's not much in the middle. Television offers those rich opportunities to be sincere and reach more difficult subjects," he argues.
Other than directing, Annaud also co-produces the series alongside Lyn Greene, Richard Levine, Tarak Ben Ammar and Fabio Conversi.
DEMPSEY AND ANNAUD TALK FILM INDUSTRY IN THE MIDDLE EAST
In his first visit to the El Gouna Film Festival, Dempsey revealed his will to work in the Middle East and North Africa, and spoke of the importance of people seeing the "other side" of the region.
"For me, coming here is an important thing because I want to work here," he reveals. "I want a collaboration with filmmakers from Egypt and from the Middle East, and to be able to bring my visibility to tell a story."
He also urges young filmmakers to do their best to send their message to a wide audience.
"I encourage people to make films, to do it themselves, they have the technology to tell their own stories and I think that can be transformative," he says.
Annaud, who has previously worked in the Middle East – particularly during the production of Black Gold (2011) – is dismayed that some regional film festivals have not gone the distance and that Arabic movies are not accessible in many countries.
"I have been to several festivals in the Middle East and I am sad to know that a lot of them have disappeared," he says, "It's true that cinema from this part of the world is not distributed the way it should be in Europe, and it's even worse in the United States."
However, Annaud also believes that regional initiatives like the El Gouna Film Festival can help bring together cinema from different parts of the world.
"I'm very happy to see that here there is a real desire to make a great festival where we can connect."
Watch Inspire Middle East's full coverage of the El Gouna Film Festival on air and online on Friday 5th October. Other must-see interviews in this special edition include Golden Globe winner Sylvester Stallone, American actor & producer Owen Wilson and Arabic film icon Yousra.