Sylvester Stallone talks Creed II, Rambo V and reveals future plans
Comments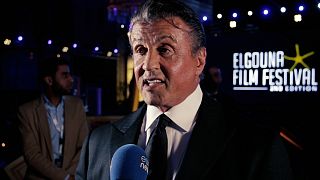 Hollywood legend Sylvester Stallone was feted with the Career Achievement Award during the second edition of the El Gouna Film Festival.
The actor, most famous for playing Rocky Balboa and Rambo, tells Inspire Middle East that being honoured at El Gouna means a great deal to him.
"You can be lucky for a couple of years," says the action star, "But if you have a long career - and I try to tell my children that life is a long race - and if you're still in the race after all these years, then it means a lot more than for a short time."
THE LAST OF ROCKY?
The actor goes on to say that Creed II, set to premiere in the coming months, might be the last time he plays the iconic role of boxer, Rocky Balboa.
"I would go on until they take me away. Until Rocky turns into dust," jokes Stallone, "But we'll have to see. It's very sad for me, it's like saying goodbye to my best friend. So, maybe, who knows?"
FUTURE PROJECTS
Other than the Creed sequel, Stallone is looking forward to filming Rambo V, amongst other projects.
"I'm going to be doing Rambo V, which is like Last Blood, and I'm going to Bulgaria right now," he says, "But after that, I've started a production company where I'm going to go out looking for young filmmakers. I'll be more of a mentor - behind the scenes."
FILMING IN THE MIDDLE EAST
Stallone's flying visit to El Gouna has left a lasting impression and he's hopeful to return soon to further explore Egypt's many attractions.
"I've heard so many exciting things about Egypt that I thought I'd come back whilst filming Rambo - maybe on the weekend - and go to Cairo. You know, meet a few people, go to a few museums, see what's up," he says.