Greek authorities start to relocate migrants from Moria camp
Comments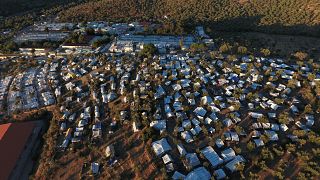 Greek authorities have started transporting migrants from the Moria refugee camp in Lesbos to the Greek mainland.
The government announced last week that they were going to relocate 2,000 asylum seekers by the end of the month.
"It will help the situation, but it's not a permanent solution because more refugees keep coming to the island," said Apostolos Staikos, Euronews correspondent, who gained rare access to the camp.
"If they do it, yes, it's something, however those who come seem to replace those who leave. So for many activists, NGOs and for local authorities it seems like a deadlock."
Moria has a capacity of around 3,000 refugees, but it is currently home to around 9,000 people.
Staikos says migrants describe their lives with one phrase: 'waiting in line.'
"In order to get breakfast you need to wait in line for three hours and the same for lunch and dinner, so basically ten hours per day just to get some food,
"If we talk about doctors, you need days before you see a doctor, if we talk about your asylum case you need a month before you get your first interview," he said.