Kavanaugh accuser lays out conditions for her to testify about alleged assault
Comments
By Leigh Ann Caldwell and Kasie Hunt and Frank Thorp V with NBC News Politics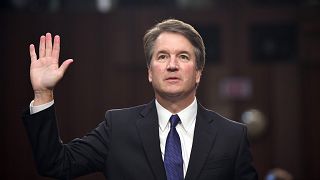 -
Copyright

Saul Loeb AFP - Getty Images
WASHINGTON — Lawyers for the woman accusing Supreme Court nominee Brett Kavanaugh spoke with attorneys for the Senate Judiciary Committee and laid out conditions for her appearance before the panel, including not being in the hearing room with him and assurances that she will be safe.
In nearly an hour-long telephone call in which the Judiciary Committee staff did most of the listening, Debra Katz, an attorney for Christine Blasey Ford, went through a series of concerns and preferences should she agree to appear before the committee next week.
It's the first time Republicans on the committee have spoken directly with Ford's attorneys since she went public with the allegation against Kavanaugh on Sunday and the discussion seems to have thawed a stand-off between the two parties as to whether she would testify.
Among the requests, the one that appeared to be non-negotiable for Ford was a Monday appearance. The earliest she could show would be Thursday, Republican and Democratic sources told NBC News. Monday is the day that Senate Republicans had originally offered for Ford to come testify and when Kavanaugh has said he is ready to testify.
Ford's attorney also relayed her concern about security and asked that the committee work with her to ensure she would be safe if she agrees to testify.
Here are the other items Ford requested:
Wants to testify second and Kavanaugh to appear first;
Doesn't want Kavanaugh in the room at the same time with her;
Prefers not to be questioned by outside counsel, but rather by the senators on the committee;
Would like the committee to subpoena Mark Judge, the other student Ford alleges to be in the room at the time of the assault, to testify;
Says each senator should have equal time questioning (already committee practice);
No time limit on her opening statement; and
Will appear at a public hearing but she would like to limit the number of cameras to pool coverage.
After consulting with committee members, Sen. Chuck Grassley, R-Iowa, chairman of the Judiciary Committee, is expected to present Ford with a counter offer as early as Friday.
As for the viability of the requests, the most controversial one is expected to be the subpoena of Judge, who has said he doesn't want to testify. It is unlikely that Republicans would allow a witness to dictate a subpoena of another witness.
Ford has accused Kavanaugh of sexual assault at a party in high school when Kavanaugh attended the elite all-boys Georgetown Preparatory School outside of Washington, D.C. Ford detailed, in an account to the Washington Post, that she was 15 at the time and attended the all-girls school, Holton-Arms.