Behind the Science: An exclusive look around CERN in Geneva — Episode 2
Comments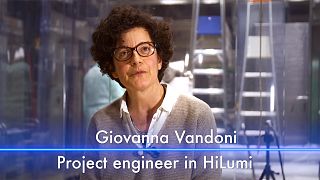 Follow us behind the scenes at CERN — "Behind the Science" takes you inside one of the most famous physics research centres in the world, where thousands of scientists work day and night to unlock the secrets of our universe.
CERN is like a small town where around 11,000 people work every day. A hundred metres below the surface, between the French and Swiss border, lies the Large Hadron Collider (LHC), a 27-km-long ring used to make particles collide at the speed light.
In each episode of our mini-series, we meet the people contributing daily to this incredible scientific machine. They will tell us about their experiences, successes, challenges and passion for the job.
In the second episode, we meet Giovanna Vandoni, a project engineer who played an important role in the recent installation of the so-called "crab cavities", which increase the number of collisions in the LHC and, consequently, the precision of the experiment's analysis.
EPISODES:
1 - Stefan Lueders: Computer Security Officer
3 - Katy Foraz : Leader project of coordination for the accelerator complex
4 - Charlotte Lindberg Warakaulle : Director for International Relations