Anti-Kremlin activist Pyotr Verzilov 'was definitely poisoned'
Comments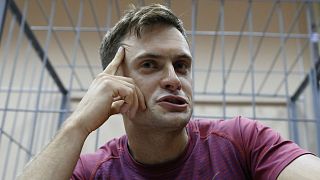 A prominent anti-Kremlin activist has been poisoned and is in intensive care in hospital, Euronews has learned.
Pyotr Verzilov, a collaborator of protest punk band Pussy Riot, is in a critical condition, it's been claimed.
Verzilov, 30, is best known outside Russia for staging a brief pitch invasion during the football World Cup final in Moscow in July.
"It's definitely poisoning," Maria Alyokhina, a member of Pussy Riot, told Euronews. "His condition is critical, but his life isn't threatened.
"He didn't have any prescriptions, he didn't undergo any treatments using any medicine, he didn't take anything and he was super healthy."
Verzilov is the publisher of Mediazona, a Russian online news outlet that focuses on human rights violations inside Russia's penal system.
He served a 15-day sentence for running onto the pitch in front of President Vladimir Putin and other high-ranking officials wearing police uniforms during the final of the World Cup on July 15, a stunt they said was meant to promote free speech.
Pussy Riot came to prominence in 2012 when its members were jailed for staging a protest against Putin in a Russian Orthodox cathedral in Moscow. The group has since become a symbol of anti-Kremlin protest action.