World's oldest diver breaks his own record
Comments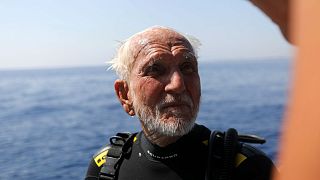 A 95-year-old British man has broken his own record as the world's oldest diver, Ray Woolley, a World War Two veteran, took the title from himself when he dived to explore a shipwreck off the coast of Cyprus. Breaking his own record has become an annual event.
"Lovely to break my record again," said Ray Woolley after he surfaced. "And I hope, if I can keep fit, I'll break it again next year with all of you"
With a group of fellow divers, Ray dropped to a depth of just over 40.6 metres for 44 minutes, surpassing his achievement last year when he dived down 38.1 metres for 41 minutes.
This year Ray and the group explored the seabed around the shipwreck "Zenobia", a vessel full of trucks, which went down in 1980 during her maiden trip 2km off the Larnaca coast. Ray is originally from northwest England but is now a permanent resident in Cyprus. He's been diving for 58 years and he said he wants to demonstrate to older people the importance of exercise.