Watch: Pop-up restaurant on abandoned train platform in Tokyo
Comments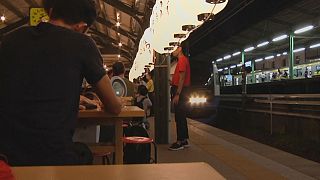 A pop-up restaurant has sprung up on an abandoned train platform in Tokyo.
The restaurant was launched on August 23 and is located on the Ryogoku platform, which was discontinued several years ago due to lack of use.
The hub specialises in gyoza, or Japanese potstickers, and opens daily, although visitors will have to purchase a train ticket before entering.
Osamu Kanazawa, a representative of Ajinomoto Co, the company behind the pop-up restaurant, said that "it seems like a lot of people come and go from this place, and they've never seen or eaten our company's gyoza".
"We thought people might be interested in this, so we decided to (hold this event) in this station," Kanazawa continued.
The restaurant will run until September 5.