United Nations appeals for 'greater support' for countries hosting Venezuelan refugees
Comments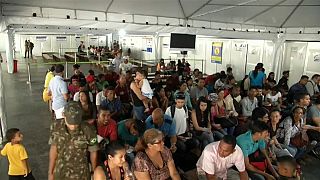 The United Nations has appealed for greater support from the international community for countries receiving refugees from Venezuela.
Stephane Dujarric, the UN Secretary-General's spokesman, said that more than one and a half million Venezuelans had left the country in the last three years of economic and political crisis.
Mr Dujarric said that the leadership of both the UN High Commissioner for Refugees (UNHCR) and the International Organization for Migration (IOM) have commended neighbouring countries for hosting Venezuelans arriving at their borders.
However, he also said the UN was concern over new passport and border entry requirements in Ecuador and Peru, plus changes to temporary stay permits for Venezuelans in Peru.