Venezuelans request asylum in Peru as UN warns of a 'crisis moment'
Comments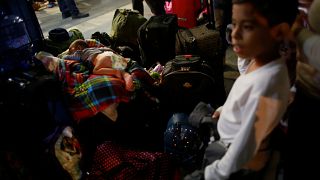 -
Growing numbers are fleeing economic meltdown and political turmoil in Venezuela, where people are begging for food and other necessities of daily life, threatening to overwhelm neighbouring countries.
Previously, Peru allowed Venezuelans to enter if they were carrying a passport or an identity card, but as of Saturday, an ID card is no longer acceptable. 
The policy change sent a surge of Venezuelans across the border, trying to beat the deadline.
Peru has already taken in nearly 400,000 Venezuelan immigrants, most of them during the past year.
To date, 80 percent have entered Peru with a passport, while 20 percent crossed with only an identity card, according to migration data.
The exodus of migrants from Venezuela is building toward a "crisis moment" comparable to events involving refugees in the Mediterranean, the United Nations migration agency said on Friday.
Officials from Colombia, Ecuador and Peru will meet in Bogota next week to seek a way forward.
The new regulations prompted Ecuador to open a "humanitarian corridor" to the Peruvian border, with 35 busloads on the way, Ecuadoran Interior Minister Mauro Toscanini said Friday.
Tens of thousands of Venezuelans seeking to enter Peru are at risk of being stranded in Ecuador and Colombia, which are already struggling to cope with the heavy migrant burden.
Peru's top immigration official, Eduardo Sevilla, said Peru will exempt some Venezuelans from the passport requirement, including parents with children seeking to join the rest of their family, pregnant women and the gravely ill.
However, Sevilla said authorities would also be vigilant of attempts to evade the new rule by claiming refugee status.
"Is UNHCR going to take responsibility if that person commits a crime?"
Sevilla said to Reuters, "Our priority is to contribute to security and internal order by clearly identifying people.", Peru's top immigration official said parents with children seeking to join the rest of their family, pregnant women and the ill will be exempt from the passport requirement.
"Is UNHCR going to take responsibility if that person commits a crime?"
Colombia's migration director, Christian Kruger, has said he was "worried about the consequences" of any tighter border controls by his country's two southern neighbors.
"Asking for a passport isn't going to stop migration, because they're leaving their country not out of choice but out of necessity," he said.
Describing those events as early warning signs, a spokesman for the International Organization for Migration (IOM), Joel Millman, said funding and means of managing the outflow must be mobilized.
"This is building to a crisis moment that we've seen in other parts of the world, particularly in the Mediterranean," he told a news briefing.
On Thursday, the IOM and U.N. refugee agency UNHCR called on Latin American countries to ease entry for Venezuelans, more than 1.6 million of whom have left since 2015.
UNHCR spokesman Andrej Mahecic said on Friday that governments had made "commendable" efforts even though some reception capacities and services were overwhelmed.
However, he said "some disturbing images" had emerged from the region in the past week that risked stigmatizing Venezuelans who had fled and complicating efforts to integrate them.
An Ecuadorean judge, Judith Naranjo, on Friday lifted an order requiring that Venezuelans hold passports to be allowed entry, in response to a lawsuit filed by Ecuador's state ombudsman together with local human rights groups.
"The judge accepted the request for the precautionary measures requested by the ombudsman," the agency wrote on Twitter.
Ecuador's government said it would respect the decision to allow migrants to enter on their Venezuelan identification cards.
However, it said that the identification cards would have to be accompanied by a "certificate of validation" issued by Venezuela or an international agency recognized by Ecuador.
Ecuador said the measure was intended to protect its own citizens. It did not say when it would take effect.
Venezuela's information minister, Jorge Rodriguez, said on Friday that a new package of economic measures meant to address hyperinflation would win over Venezuelans who had left the country.
Venezuela on Monday cut five zeros from prices and pegged the country's currency to an obscure state-backed cryptocurrency.
Critics slammed the plan as inadequate in the face of inflation that topped 82,000% in July and is expected to reach 1 million percent this year.
"The conclusion is that Venezuelans are going to return and furthermore we invite them to return because we need them for this recovery plan," Rodriguez told a news conference.