Venezuela: exodus of migrants heading towards a "crisis moment"
Comments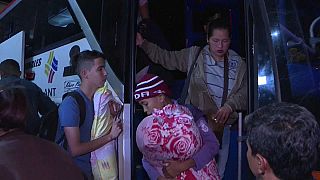 The exodus of migrants from Venezuela is building toward a "crisis moment" comparable to events involving refugees in the Mediterranean. That's according to the United Nations migration agency It comes as desperate Venezuelan migrants breathed a sigh of relief as they reached Peru's border before the tightened controls came into effect on Saturday, preventing those not carrying passports from entering.
Ricardo Morales, is 24 and has a passport and he says, "Part of me feels calm, but I'm also worried about my fellow Venezuelans, with this problem regarding the passports. In our country it's really hard to get a passport."
Tens of thousands of Venezuelans are fleeing to many countries in overwhelming numbers, because of the high inflation nearly reaching 1 million percent - creating chronic food and medicine shortages.
Venezuela's information minister says he thinks people will return but with a worthless currency and no plan for economic reform, it seems hard to think people will go back any time soon.