Watch: Real pony carousel in Brussels sparks outrage
Comments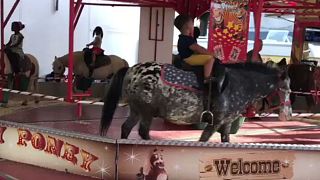 A "carousel" at a fair in Brussels has sparked outrage on social media for using real ponies.
A Twitter user posted a video of the attraction on Twitter on Saturday, showing ponies walking around in a circle with children on their backs.
"I saw this 'attraction' at the fair in Brussels and wanted to know if it was legal? Ponies tied all day who do nothing but walk around in circles… I find it really shameful," Twitter user Aziadonis wrote alongside the video.
More than 37,000 people shared the post, with many criticising the ride.
"It's absolutely disgusting, the animals must suffer in this heat to go around in circles like that," one user wrote. Others described the carousel as "shameful" and "unacceptable".
Animal rights NGO 30 Millions D'Amis Foundation said a law banning such rides comes into effect in Brussels in January 2019.
However, many are now calling for the practice to be stopped sooner.