Shocking testimony delivered in third day of trial of President Trump's former aide.
Comments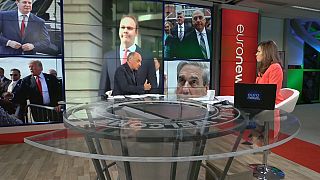 The fraud trail of Donald Trump's ex-campaign chairman, Paul Manafort, has reached a crucial moment this week, as Manafort's former deputy, Rick Gates, begins his court testimony.
Rick Gates, who held a senior role in Donald Trump's presidential campaign, is often described as Manafort's "right hand man". On Monday, he admitted in court to embezzling thousands of dollars from his former boss, and said that the two of them had committed crimes together.
In his highly anticipated testimony, Gates admitted to filing false tax returns and setting up offshore bank accounts.
Paul Manafort's trial is the first criminal trial to come out of the Mueller investigation into Russian interference in the 2016 election, and alleged collusion by the Trump campaign. Whilst the charges against Manafort do not directly relate to Trump's presidential campaign, or any potential collusion, both Gates and Manafort were indicted as a direct consequence of Mueller's investigation.
Gates is cooperating with the investigation as part of a plea bargain with the prosecution, whilst Paul Manafort denies all charges- which include tax fraud; bank fraud; and failing to report foreign bank accounts. Gates is expected to face 6 years in jail, despite his plea deal, whilst Manafort is facing life imprisonment if found guilty. 
Prior to working for Donald Trump, Paul Manafort worked in Ukraine for President Viktor Yanukovych- who was out of office at the time in question. It is alleged that Manafort earned millions of dollars, which he neglected to declare to the authorities. President Trump has previously spoken of the Mueller investigation, referring to it as a "witch-hunt", and reiterating that Manafort only worked for his campaign for a few months.
With President Trump making the election campaign promise to "drain the swamp", critics have been quick to point out the hypocrisy of having two high up former aides associated with salacious behaviour.
Rick Gates will continue his testimony today.