Trump will reimpose sanctions on Iran. What happens next?
Comments
By F. Brinley Bruton and Associated Press and Reuters with NBC News World News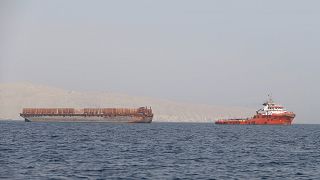 Copyright

Hamad I Mohammed

-
The U.S. is expected to reintroduce sanctions on Iran Monday, a consequence of President Donald Trump's decision to withdraw from a landmark 2015 nuclear deal.
What will the measures involve, how do they affect America and Tehran, and what could be coming next?
What do Monday's sanctions cover?
The moves targeting oil-rich Iran's automotive sector as well as gold and other metals are set to be reimposed at midnight ET Monday. This first set of punitive measures had been eased under former President Barack Obama.
Why is the U.S. doing this?
The White House is open to looking beyond sanctions on Iran, but there is a need for "enormous change" from the government of President Hassan Rouhani, Secretary of State Mike Pompeo told reporters aboard his plane on his way home from a trip to Southeast Asia Sunday.
The U.S. and regional allies Saudi Arabia and Israel accuse Iran of being the foremost state sponsor of terrorism.
Trump called for a wholesale overhaul of Iranian regional policies, such as its military support for the Syrian government and regional militant groups like Lebanon's Hezbollah. The 2015 pact did not curb these actions, according to Trump, who has called the agreement "the worst deal ever."
International inspectors say Iran has been complying with the nuclear deal, formally known as the Joint Comprehensive Plan of Action and signed by the five permanent members of the U.N. Security Council — the U.S., Russia, France, China and the United Kingdom — as well as Germany and the European Union. Other signatories opposed the U.S. withdrawal from the deal.
How has Iran responded?
WhileTrump tweeted last week that he would meet with Rouhani, the country's Revolutionary Guard said it is holding naval exercises near the the Strait of Hormuz, a crucial waterway used by about a third of all oil traded at sea.
Iran on Sunday announced a plan to ease foreign exchange in a bid to counter the effects of a plunging currency. Foreign currencies have recently doubled in price on the black market and Iran's rial has lost two-thirds of its value in six months.
The country's Central Bank also lifted restrictions on bringing gold and foreign currency into Iran.
"We are facing an economic war and the U.S. government is restoring sanctions and also trying to increase them," Central Bank governor Abdolnasser Hemmati said on state TV.
Hard currency will be made available at a subsidized rate for purchases of basic goods and medicine, according to agencies.
Rouhani, who has come under growing pressure from more hardline members of Iran's ruling elite, plans to address his nation Monday night. He is expected to talk about the economic crisis and Trump.
Iranian officials have hit out at Saudi Arabian and Israeli leaders, as well as Trump.
"Today, Trump, [Saudi Crown Prince Mohammad] bin Salman and [Israeli Prime Minister Benjamin] Netanyahu have become the symbol of mistrust in the world," Zarif was quoted as saying on state TV. "The world has distanced itself from their hostile policies against Iran."
What's been going on in Iran?
Rouhani sold the nuclear agreement to Iranians as a crucial step for the country's reintegration into the world economy. Iran had suffered under years of punishing sanctions but, even before Trump's decision to withdraw from the accord, the expected economic benefits had been slow to arrive.
There has been a spike in protests and strikes around Iran — including in the last few days — amid anger at the languishing economy and strict social controls imposed by the country's clerical leadership.
What's next?
The U.S. is preparing a second batch of U.S. sanctions, targeting Iran's oil sector and central bank, to be imposed in early November.
America has pressured allies to stop importing oil from Iran ahead of the November deadline. Top importers of Iranian oil are China, India, Turkey and South Korea.
Iran, meanwhile, has hinted that it will block the Strait of Hormuz — raising the possibility of an escalation.