Scientists reveal the exoplanet most likely to spawn alien life
Comments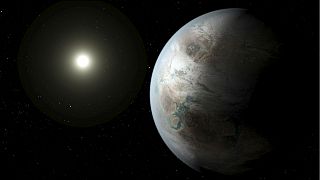 Copyright

REUTERS/NASA/Ames/JPL-Caltech/T. Pyle/Handout
A "super-Earth" some 1,400 light years away is the most likely planet outside of our solar system that we know of for alien life to have emerged, according to a new study.
Kepler-452b, a planet about one-and-a-half times the size of the Earth, is located in the correct position to possess conditions for life to be created, researchers from the University of Cambridge and the Medical Research Council Laboratory of Molecular Biology found.
"We determined that Kepler-452b is the most likely exoplanet that we know of on which life may have originated because of its star, Kepler-452, and because of its distance from the star," the study's lead author, Paul Rimmer, told Euronews.
Kepler-452 is the same type of star as our own sun, and likely produces enough UV light to kickstart a series of chemical reactions that produce the building blocks of life, while the planet is also the correct distance from the star for liquid water to exist stably on its surface, he explained.
Its position within both the "abiogenesis zone" and the "habitable region" are so similar to Earth's that the exoplanet has been dubbed "Earth's cousin".
However, despite their similarities, much remains unknown about the planet, which was discovered in 2015.
"Kepler-452b is bigger than the Earth... This may just mean it's a bigger rock, and otherwise would be much like the Earth. Or it may be a world covered with water. Or maybe it's shrouded in a hydrogen envelope, more like a warm Neptune than Earth," said Rimmer.
"In these respects it could be a little different or almost completely different from Earth. We don't know."
Rimmer noted that while Kepler-452b is the most likely exoplanet that we know of on which life may have originated, there may be other closer planets on which the "building blocks of life may have more easily formed" but that haven't been found yet.
The scientists are now building a simulator to accurately reproduce the light of different stars.
"We plan to test the chemistry with this simulator, to see what sorts of flaring is needed to make life's building blocks," Rimmer said.