Grocery chain Carrefour Argentina under fire for 'sexist' campaign
Comments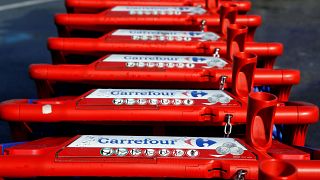 Supermarket chain Carrefour in Argentina is under fire for a campaign dubbed as "sexist" has garnered a lot of attention after outraged store-goers posted photos of it on social media.
One of the ads, which advertised Children's Day ahead of the August 19 holiday, shows a picture of a boy in a race car accompanied by the words "With 'C' of Champion" and a picture of a girl behind a play cooking station accompanied by the words "With 'C' of Cook." 
Another ad similarly calls the boy a constructor, and the girl a "coqueta," a word that carries the connotation of a girl who is a flirt.
Carrefour took to Twitter to apologize for the campaign, saying it by no means represents the company's approach to diversity, and noting that the images are being taken down in the respective branches.
Others began commenting their own witty variations, reprimanding the company:
"With 'c' of let's cut the stereotypes"
"With 'c' of cavemen!! We are champions, scientists, capable and we are TIRED!!"
"Hi @CarrefourES . With C of champion, surgeon, carpenter, professor, driver ... You're welcome."