More travel chaos for holiday makers flying Ryanair
Comments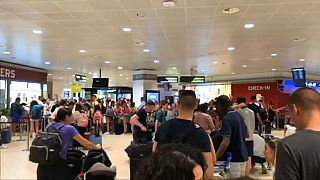 There's more travel chaos for passengers flying with Ryanair as German pilots go on strike.
They've been pushing for collective labour agreements since last January.
The pilot union (Vereinigung Cockpit) says 96% of pilots in Germany voted in favour of striking and given the airline until August the 6th to make another offer.
They'll provide 24 hours notice and say Ryanair is not taking the ballot seriously.
Ryanair says its invited the union to another meeting next week.
It all comes as the no frills airline has had to cancel flights due to various strikes across Europe recently.
This Friday, 20 flights have been cancelled as a quarter of Irish pilots will stop work.
Last year, the company agreed to recognise unions as official representatives for workers but it's struggling to reach agreements with some of them.