Travel chaos for Ryanair passengers in July
Comments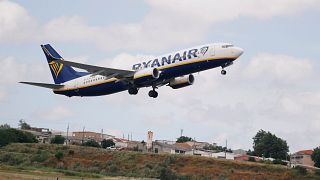 Fifty thousand passengers flying with Ryanair next week will be affected by cancellations due to strikes.
Three quarters of those affected have been refunded or given alternative arrangements so far, Ryanair said.
Ryanair says the biggest walkout will ground 600 flights on the 25th and 26th of July from Belgium, Portugal and Spain.
Cabin crew have escalated a staff revolt that began among disaffected pilots last year.
They've published a list of 34 demands on July 4, including "a fair living wage", improved sickpay and employment contracts in their own language, based on local rather than Irish law.
Ryanair's CEO Michael O'Leary agreed to recognise the unions in 2017, a first in its 32-year history.
The airline says it will sit down and meet with them to consider the issues.
On Wednesday it said in a tweet, its staff have some of the best conditions in Europe's low cost airline sector.
It apologizes to passengers for the disruptions and people are being notified by text and email.
Meanwhile, Ryanair pilots in Dublin are striking on Friday 20 July, affecting around 4,000 passengers.
[This story was updated on July 19 to add that 75% of affected passengers have been refunded or reaccomodated]